"I reflect upon the simple and profound truth that humanity and nature depend upon God for His/Her daily gifts of life, health, sunlight, air, water and rich soil. Though I am proud to have participated in over 200 public art exhibitions (including 40 juried exhibits) and having over 220 of my artworks in Australian, Indian, Italian, Swedish and American collections, I am happiest knowing that my artworks can help increase people's appreciation of God's daily presence."
Robert C. Schick
Paintings and Sketches AVAILABLE for Sale as listed – Please email ROBERT C. SCHICK with your interest.
---
Robert C. Schick 
Fine Artist / Landscapes & Figure Painting
---
COMING EVENTS:
OUTSIDE:IN POPS (Peninsula Outdoor Painters)
Exhibit dates:
July 15 – August 14, 2021
1313 Newell Rd., Palo Alto  |  Tues – Sat 10am – 5pm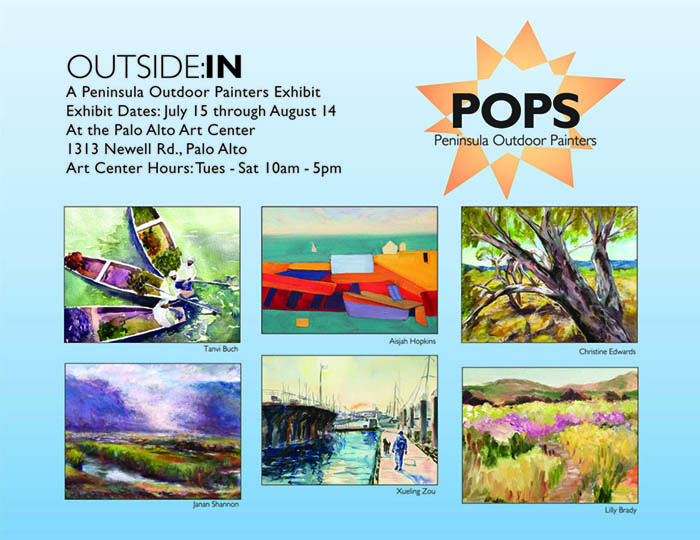 ---
NEWS ARTICLES: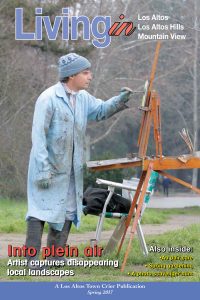 A REVIEW by Mary Larsen on Robert Schick's life and art is featured in the Los Altos Town Crier magazine 'Living In' Spring 2017. Photography by Megan V. Winslow.
Approximately 250 of Schick's paintings are owned by people in seven different countries, and a number of them hang locally. Mountain View artist Robert C. Schick has spent much of the past two decades on a mission: to call attention to the beauty and historical value of the area, as well as to preserve it on canvas. Schick draws inspiration from the landmarks and pastoral scenes of the local area, many of which have vanished since he painted them. READ THE FULL STORY
---
SELECTED SOLO EXHIBITIONS:
2019 Eco Center, Palo Alto
2016 Los Altos Public Library
2013 Open Studios, Los Altos Hills
2009 Finn Center, Mountain View
2006 Hope Street Music Studios, Mountain View
2001 Mountain View City Hall
2001 Pacific Graduate School of Psychology, Palo Alto
2000 Gallery 9, Los Altos
1998 San Jose Art League
1997 Genesis: Sanctuary for the Arts, San Jose
SELECTED JURIED EXHIBITS: (*=awards received)
2020
University Art's "12th Annual Open Art Competition & Exhibition"*
2016
Triton Museum, Santa Clara
juror: Charlotte Eyerman, Monterey Museum of Art Executive Director
2014
Los Altos History Museum* "Los Altos Moving Art Forward"
juror: George Rivera, former Triton Museum Director
2013
Jennings Pavilion, Atherton
2011
Los Altos History Museum* "Heart's Delight"
juror: Preston Metcalf, Triton Museum Chief Curator
2007
Main Street Cafe, Los Altos * "Plein Air Los Altos 2007"
juror: George Rivera, Triton Museum Director
2004
Main Street Cafe, Los Altos "Life Styles of Los Altos"
2001
Santa Clara County Fair*
1999
Triton Museum of Art, Santa Clara* "Biennial Statewide Pastel Competition"
juror: John DeVincenzi, SJSU Art Professor
1998
Los Gatos Museum of Art And Natural History "Open Juried Show"
juror: Dale Laitinen, artist
1998
Triton Museum of Art, Santa Clara* "Vaast Exhibition"
jurors: Robin Lasser, SJSU; Jo Anne Northrup, De Saisset Museum Curator; Christopher Schink, artist
1993
San Jose Art League** "2-D Contemporary 21st Annual Competition"
juror: Philip E. Linhares, Oakland Museum Chief Curator
1991
EPA School of Art, San Francisco "Respectfully Mother Earth"
jurors: Fred Martin, SFAI Dean; Marian Parmenter, SFMOMA rental gallery;
Charles Strong, College of Notre Dame Art Professor
SELECTED GROUP EXHIBITIONS:
2020 Los Altos History Museum, "Gallery 9: 50 Years"
2018 Palo Alto Cultural Center
2017 Triton Museum, Santa Clara
2016 EcoCenter, Palo Alto
2016 Accent Arts, Palo Alto
2015-01 Rengstorff House, Mountain View
2014 /2015 CSMA Visual Arts Program Student/Faculty Show
2014 Los Altos History Museum, SFMOMA Los Altos public art project www.everythingisperfect.org
2011 Moffett Field History Museum, Mountain View
2009 Los Altos Hills City Hall
2008 Portola Art Gallery
2008 Don Edwards Wildlife Refuge, Newark
ARTWORKS IN PUBLIC COLLECTIONS:
Triton Museum, Santa Clara
Moffett Field History Museum, Mountain View
Mountain View Library (History Room)
Los Altos History Museum